Working with art of all forms is one of the true luxuries of this business.  It's easy to take for granted our easy access to inspiration and proximity to amazing works of art.  We have always viewed ourselves as cultural guardians, protecting and preserving art for future generations to enjoy.   Loving art is practically a job requirement.
We were recently inspired when Sara Douglas, the esteemed Editor-In-Chief of ARTnews, asked:  What is the first artwork you remember seeing?
During these summer days when we can take a break in between the craziness of art fairs and auctions, we asked our team to take a moment and remember what was the first artwork they saw that left an impression on you?
The answers were diverse and inspiring, demonstrating the diversity of the art world in terms of form, presentation, and age.  The responses of our staff included works by masters to emerging artists; from pieces displayed in museums to those owned in their family homes.  We're happy to present a series of posts dedicated to the response of our staff, which allow us to step away from being art handlers and put our love of art on display.
What Inspires Us:  The German Re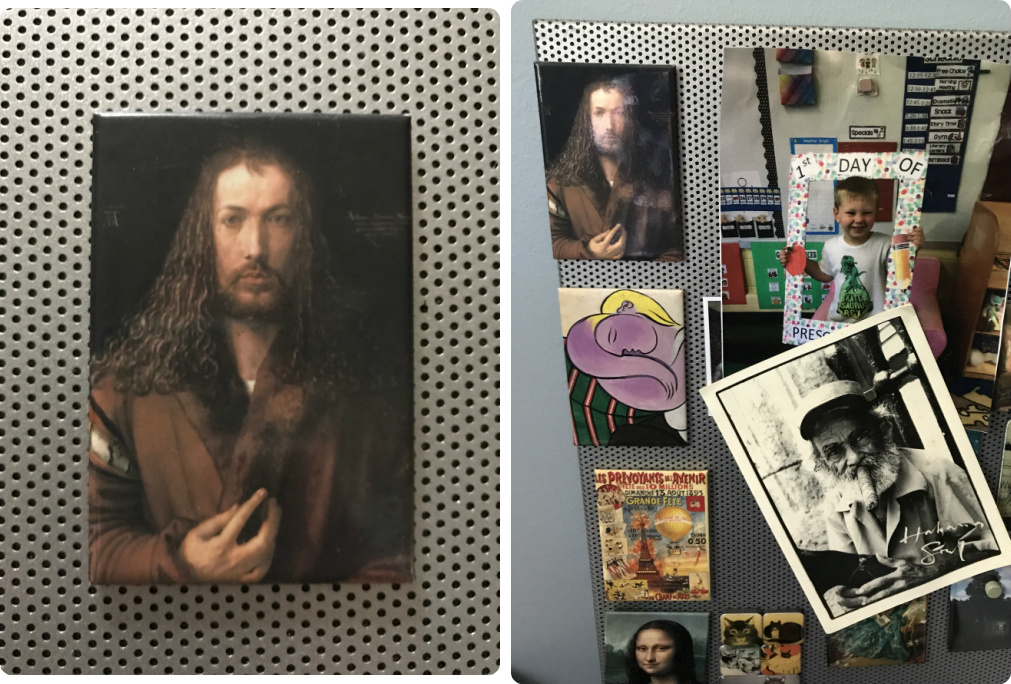 naissance
Team Member: Melissa Osterwind, Chief Operating Officer
Artwork: Self Portrait at Twenty-Eight Years Old
Artist:   Albrect Durer
Location: Alte Pinakothek, Germany
I'm going to confess something to you:  I'm not sure I was ever completely aware of art until my mid-twenties when I found myself dating a sweet, German man who loved art and architecture.  During a trip to his home country, we visited the Alte Pinakothek in Munich and I was struck by the Self Portrait at Twenty-Eight Years Old by Albrecht Durer.  I was completely taken in by the intensity of the man's gaze, the details of the locks in his hair, and the positioning of the hand.  His eyes were dark and his face was Christ-like, which was appealed to my twelve years of Catholic education. I remember stopping at the gift shop outside the museum and purchasing a magnet of the painting.
It's now over ten years later and I'm now married to that man and have been to many of the world's greatest museums.  Having worked at SRI Fine Art Services nearly five years, I've been privy to seeing some amazing art; but I can close my eyes and remember that painting without much effort.  And, despite having 2 children and moving 2 states, I still have that magnet of the painting on display in my home.