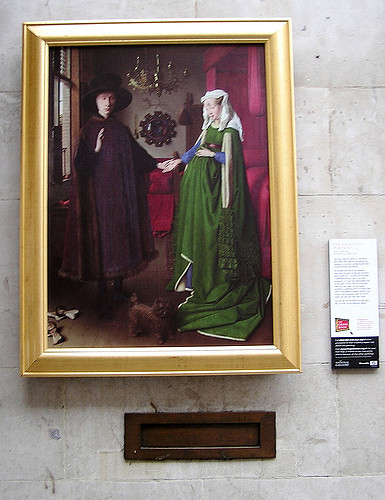 Team Member: John McCollum, General Manager
Artwork: The Arnolfini Portrait
Artist: Jan Van Eyck
Location: The National Gallery, London
Many moons ago, I was a young teenager fulfilling his college liberal arts requirement with an arts history class. As I muddled through that class – completely unaware of my future career path – I studied the Arnolfini Portrait by Jan Van Eyck. The intricacies of the portrait struck me – the positioning of the shoes, the little dog at their feet, and the couple's reflection in the mirror. The beauty of this painting made a huge impression even to a teenager who was more focused on Spring Break than fine art.
It was several years later when I actually saw the painting in person at the National Gallery in London. The painting was so much smaller than I ever imagined! I think I had estimated the actual size of the portrait in proportion to how much I enjoyed the piece. However, it's small size just made all of the intricate details of the portrait shine. I was so impressed! I also couldn't believe the amazing preservation of this painting that is over five centuries old. It still looks perfect.
The love of this painting really reinforces that what we do at SRI Fine Art Services is very important. Our team has a strong sense of cultural guardianship over the artwork we handle – we care for them not only for our clients, but for generations to come. My boys are now 6 and 10 years old and I look forward to the day I can take them to The National Gallery in London to see this amazing artwork.