Jeffrey White is the Transportation Logistics Manager at SRI Fine Art Services.  He has over five years of experience as an art handler and coordinates over 3,000 shipments annually.  We asked for his thoughts on what a client should consider when hiring an art transportation company.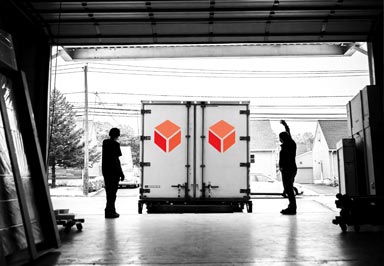 Art is not only an investment; it's a passion. At SRI we share the passion for art with our clients. We consider our most important job to be making sure our clients' collections are safe and secure.
Art is most vulnerable when it is being moved. It's not that art transportation is dangerous; it's just that art is safest when it's on the wall or in storage. But when you need to move it, you need to move it.
Here are my top 5 things to consider when moving your artwork anywhere – whether it's from one wall to another or to the other side of the world.
# 1 Hire professionals
Whether your collection is monetarily or sentimentally valuable, if you really care about it, hire professionals to move, pack and ship your artwork. I can't tell you how many times we hear horror stories from clients who just popped a small piece into a FedEx box. Bottom line; if you love it, hire a professional to handle it.
#2 Security
Because art is most vulnerable to theft and damage when it is being moved, the safety and security of the art is an important consideration when moving any type of art object.
At SRI, we know where your art is at all times.
In transit – we have dual-driver, climate controlled, air-ride trucks with GPS turn-by-turn tracking.
In our warehouses – we have universal barcoding that coordinates with our proprietary inventory management system. The warehouses themselves have 24-hour DVR surveillance, no public access points, full fire and smoke detection systems and are backed up by Central Station.
We run a really tight ship – but beyond all the security bells and whistles, I believe our best line of security is our committed staff. We really care about the art.
#3 Experience and #4 Price
I put these two together because they are things that even the wealthiest clients consider – everyone should get value for the money they spend. And of course, there is a price tag that comes with experience.
I think SRI owns a really sweet spot in the market – we have tons of experience and training, AND we are competitively priced. Our lead Art Handlers have 25+ years experience and most of our staff has 15+ years in the business. Even my newest team members have been Art Handlers for at least 5 years. We aren't young kids making minimum wage, we are professional art handlers and we take pride in our profession.
We really train our team, and we go through additional courses every year to gain more knowledge in techniques and materials so that we are prepared for anything and everything. In fact, we have yet to come across something that we couldn't handle. At the same time we really believe in being a cost-effective resource for our clients.  We are committed to being transparent about our work and our pricing.
#5 Convenience
We all lead busy lives. Work with a company that delivers on time, when it works for you, and is in communication with you regarding unavoidable delays.
SRI's commitment to technology allows us to schedule work accurately, with consideration for traffic and delays. We also accommodate after hour post-auction collections and late-night weekend art fair work.  We go out of our way to assist our clients when they need us most.